"It'll probably buff out…"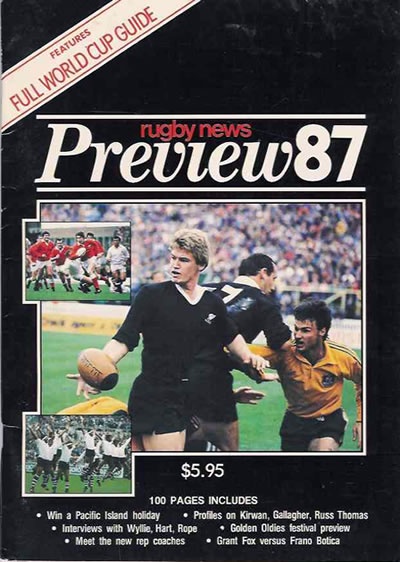 The very first 1987 Rugby World Cup that was jointly held in New Zealand / Australia was a wonderful collection of last minute amateur hour cobble something together type of tournament and as a rugby mad 17 year old with parents who had just gone on a 3 month overseas tour and left me at home by myself with the family chequebook I absolutely loved the tournament.
It was the wonderful type of tournament where you could just rock up to the ground prior to the match and buy tickets at the gate by handing over some cash – none of this palaver of ordering tickets on-line via a ballot and hope like hell that you won't get fleeced too much.
As I mentioned before – my parents had wisely decided to head overseas and left me at home in charge of all affairs – and as far as I was concerned this included writing notes to school for any time away from school. I think it might be fair to say that I might have been the only 17 year old in the country enrolled at a NZ school that managed to watch every single game that was televised live as I excused myself from school and headed home for any midweek game to watch it.
Rugby is educational!
As for going to watch matches live – well that was simple – I had the keys to Mum's Mark 2 Ford Escort 1600 Sport so I headed off to catch pool matches in Wellington, Palmerston North, Napier and Auckland. Enjoyed the traveling road show so much that I headed up to Auckland to catch the final as well and then back the next day to Napier to welcome home the parents.
Aside from the actual fun of the tournament once it was under way – my best 1987 Rugby World Cup anecdote came before the tournament when the New Zealand Rugby Football Union toured the Cup around the country visiting rugby clubs up and down the country.
It was Thursday night training for the Eskview Under 19s, we had showered and had our meal (Mince on toast, couple of boiled spuds, and peas), and we had the cup brought in by some Union 'Fish-Head'.
On sighting of the Cup for the very first time I must admit I was not that impressed by it when one compares it to the Bledisloe Cup or the Ranfurly Shield. As it was placed on the table we milled around and took a closer look at it and then took turns holding and a photo being taken of it. When it was my turn it was passed to me by my friend Gary and in passing it over I didn't realise that the lid was separate, so I just grabbed one of the handles at an angle which meant that the lid fell off and landed with a thud on to a leg rail of a bar leaner.
"Oops."
Picking up the lid of the Cup it was pretty obvious that I had just caused a noticeable dent into the edge of the lid.
Not to worry. "It'll probably buff out….."
A photo was taken of me holding the now damaged Cup and lid – which for some strange reason my sister now has in her possession in England.
One of the team mates produced a couple of quart bottles of beer and filled the cup up and we all then passed it around and drunk to a future All Black victory.
Good times!
I don't anything like this can happen to the Cup now – and somehow I think that is a bit of shame.
Contributed by Bill Blackstone